Introduction
Before a capture, you need to set the capture settings. Simply follow the guide to do the capture settings.
Who can use this feature?
| | | | | | | |
| --- | --- | --- | --- | --- | --- | --- |
| | Super Admin | Site Manager | Team Admin | Surveyor | Collaborator | Viewer |
| Mobile App | | | | | | |
1. Setting the Tripod Height
Select [Preset] or [Custom] to input the tripod height.

Input the tripod height.

For preset, input the value from the preset (level 1, 2, or 3) on the side of the Tripod* (included in the Beamo Starter Kit).



For custom, input the exact value from the floor to the 360 camera lens.





Tap [ Next ] to continue next to the next step.
Note: Tripod Height = Height of the 360 camera lens from the floor.
2. Connecting 360 camera with a smartphone by Wi-Fi
Turn on the 360 camera (top button) and Wi-Fi (second top button) ON.

Go to the Wi-Fi setting of the smartphone, and connect the smartphone with a 360 degree camera.
Ricoh Theta network name: "THETAYJ00000000.OS".
Password: last 8 digits of numbers.

Tap [Done] and continue to the next step.
Note: If you do not allow Beamo App to Access Location, Beamo App cannot find your Ricoh Theta. Please follow the guide to allow Beamo App access to your Location.
Allowing Location Access to Beamo App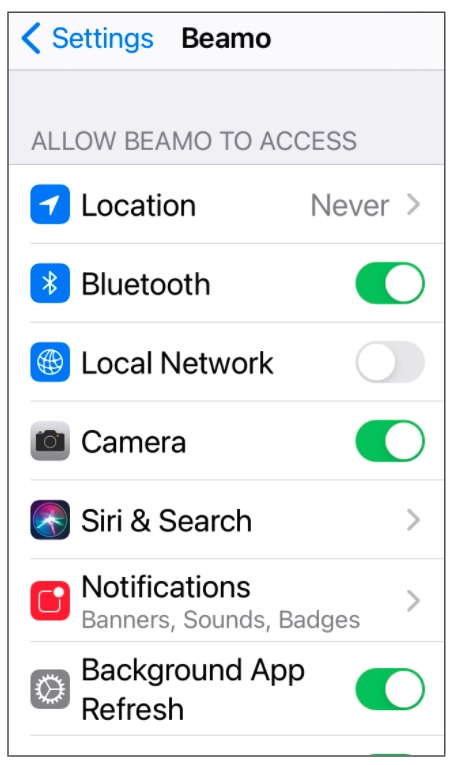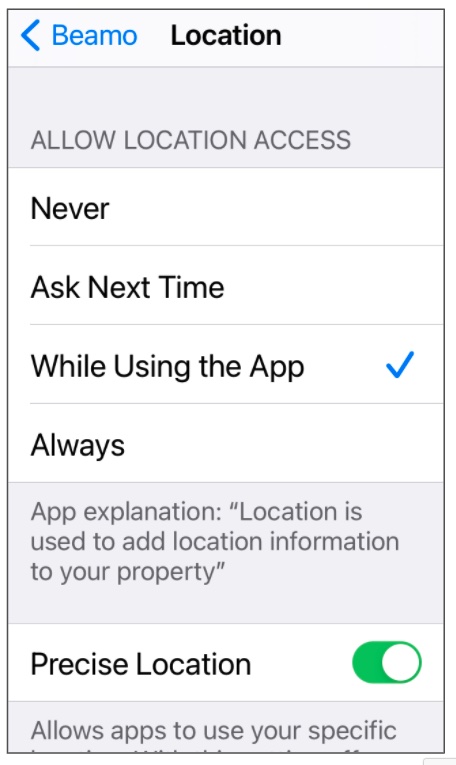 Tap [Go to setting]
Tap [Location]
Allow Location Access
Return to the Beamo App
3. Aligning the 360 camera and smartphone

The top half is the 360 camera view and the bottom half is the smartphone camera view.
Adjust the orientation of the smartphone to align the two camera views.

Tap [OK] to finish the alignment. Follow the steps in the calibration screen.