Introduction
Tags that are created can be edited with the Beamo App or Beamo Portal. You can edit the details of the tag or add extra info with images, videos, files, and links to tags. You can also pin tags to callouts to them.
Who can use this feature?
Super Admin

¹

Site Manager

²

Team Admin

³

Surveyor

⁴

Collaborator

⁵

Viewer

⁶

Edit tag
Note: 1, 2. Data added by the Super Admin and Site Manager within the 3D workspace will be shared/visible to all teams unless a specific team is specified.
3, 4, 5, 6. Permissions are limited within the scope of their team.
Edit a tag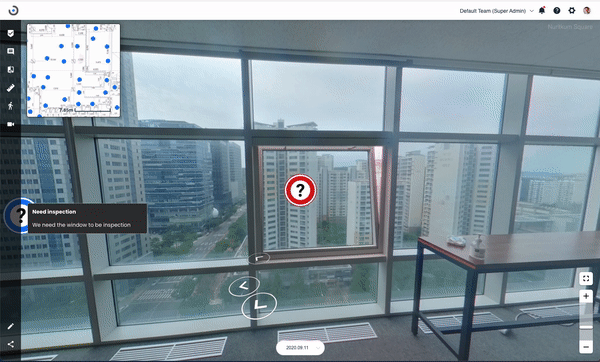 Click [edit (pen)] icon on the right side of the tag to edit the tag.

Change the title, tag type & color, media, information, file, and URL.

Edit the height of the tag by dragging the [tag] icon up and down.

Change the location by dragging the white circle under the tag icon.

Upload images or video files.
Add tag information and add more attachments and URL. For hyperlink, select the text in the info field and click the hyperlink icon to enter the URL.
If you want to delete the tag, click [trash bin].

Click [Save] to save changes.
Note: The file type below can be uploaded.
Media: MOV, MP4, AVI, WMV, FLV, JPG, PNG, GIF, TIF

Document: PDF, DOC(X), PPT(X), XLS(X), TXT, RTF, ZIP
Caution: Files added to one tag may not exceed 50MB, and you can attach a maximum of 5 files.